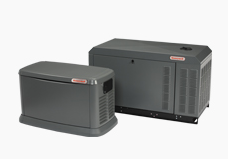 A Honeywell generator changes everything. Automatically.
A power outage will have little effect on the things that matter most to you. Home, family, business—this no-worry solution provides the power and assurance for you to feel confident they are protected everyday, whether you are home or away.
A Honeywell automatic standby generator seamlessly backs up the circuits you choose during a power outage. It automatically starts within seconds of detecting power loss, and runs on the home's existing natural gas or LP fuel supply. Choose a backup option from essential circuit, managed whole-house or complete whole-house coverage.
Click Here for more product information on Honeywell Generators.
Standby Power Generators can help maintain your comfort and a relatively normal life during power outages by supplying a totally automatic backup power source to your home.
When the power from your utility company goes out, the standby power generator automatically turns on, whether you're home or not, and automatically shuts off when power is restored.
Power outages can happen in the blink of an eye
What causes power outages?
38%
Lightning and other weather: wind, rain, snow, heat, cold and ice
26%
Utility equipment problems and grid overload
12%
Fallen trees or tree growth
8%
Human error: underground digging, cranes, traffic and vandalism
6%
Miscellaneous: mechanical damage, construction and fire
At the very least, we recommend you protect the following areas/services of your home:
Furnace
Air Conditioner
Sump Pump
Lights
Well Pump
Garage Door Opener
Security System
Refrigerator